SACRAMENTO, CALIFORNIA – Perennial light heavyweight contender Otis Griffin is back fighting at home as O.P.P Presents brings "Hot August Fights" to the DoubleTree Hotel in Sacramento on Friday, August 24th. Griffin will take on Ironton, Ohio's Adam Collins in the evening's eight-round main event, capping a six-bout card featuring many of the area's promising young pros.
Griffin (23-10-2, 9 KOs) of Sacramento looks to take step one on his path back to world title contention while fighting back before friendly faces for the first time in a long while. In his path is eight-year ring veteran Adam Collins (11-7, 8 KOs). "He's a big, strong guy from the Ohio Valley region between Cincinnati and Kentucky, so he's got a little Bluegrass-farm raise in his gene pool," says Griffin. "So he'll be a strong guy. He comes forward, so it should be a good fight. "
Griffin was able to study the handful of fights his team was able to track down of Collins on film, but bases his assessment mostly on a fight that ended in one round. "I saw the fight with Badou Jack," recounts Griffin. "That was the most credible person that he fought and I know that he lost, but it is a good measurement of where he is at. I could watch him destroy the nobody guys and not get a feeling of his exact talent, but seeing him with a mid to upper level guy, and he only lasted a few seconds, and all his movements – that makes all the difference. "
Though Griffin is the heavy favorite, there is danger present when taking on a fighter of Collins level at this stage in the game. "I have never been a person to take anybody lightly," says Griffin, refuting the possibility of such. "I have actually been whacked harder by the smaller name guys than the guys like Jeff Lacy. In fact, Billy Bailey hit me three times harder than Jeff Lacy did. So I don't take anybody lightly. I prepare for it and we systematically go over the fight plan, round-by-round. We don't just go throw our hands up in the air aimlessly."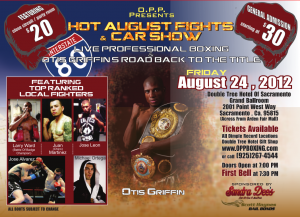 Griffin has crafted his game plan with the help of longtime trainer Saifudeen Mateen and assistant David Lee. While head trainer Mateen will be working another corner at another event on the 24th, Griffin is quite confident in Lee's capabilities come fight night. "David Lee is a really good trainer, but he is going to be great," says Griffin of Lee. "He is a guy you are going to be hearing about for many years to come. He worked with Andre Ward and Virgil Hunter for much of Ward's career. So with not only Coach Mateen, but also David Lee and strength and conditioning-wise I have Jason Thomas, everything is popping on all cylinders. This has been a great partnership between fighter and promoter and all other facets. "
While Griffin plans to send his crowd home with a memorable finish, a victory is the chief goal, regardless of how it comes. "At the end of the day, I go by the wise words spoken by Lennox Lewis, 'Just win baby, and look good later,'" says Griffin. "In a situation like this, it is like you can't win. Either you look bad beating a guy, or lose to a guy you shouldn't have. So these fights are very dangerous. But I am up for it, for the fact that I am back home before my hometown crowd. It has been many moons since I didn't actually have to get on a flight a million miles away just to hear a bell ring."
Griffin has been to the doorstep more than once in his career and has proven he can make the climb. It can be a long climb back, but you can only start with the first step. You can also make that first step memorable.
"I just want to close the show in good fashion," says Griffin. "No disrespect to Adam Collins, but I am going to come out for this fight like it is a world title fight. Every fight from here on out is, because that is the only way I am going to get back to the world title level. So that's exactly what is going to happen."
The rest of the bill will feature some of Sacramento's promising young fighters. In four-rounders, light middleweight prospect Mike Ortega will take on Velvet Malone, John Abella takes on Misael Martinez in a super bantamweight bout, super middleweights Jose Alvarez and Gregorio Viramontes will clash, welterweight Juan "Chico" Martinez will debut against Alonso Loeza and Alberto Torres goes against Christian Silva in a pairing of debuting featherweights.
Tickets for the event, promoted by O.P.P. Presents and matched by the incomparable Edward Rodriquez, are available by calling 925-787-9586 or at the DoubleTree gift shop, all Dimple Record locations as well as online at OPPBoxing.com.