Boxing can be a fickle sport. Nary an athlete's career path has as many twists and turns, ups and downs as that of an aspiring boxer. It is a sport where talent does not always translate into success, especially of the immediate variety. In fact, some of the most talented often have the most trouble getting off the blocks for no fault of their own. One fighter full of promise begins his journey anew tonight in a four-rounder at the DoubleTree Hotel in his hometown of Sacramento, California. Power-punching light middleweight Mike Ortega is home again, in more ways than one.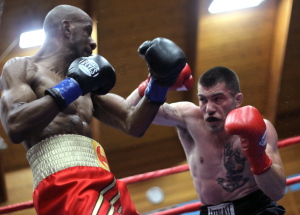 Ortega (2-0, 1 KO) turned pro way back in August of 2008 after a successful amateur career. The difficulties he found in landing fight number two helped lead him to completely switch his focus to mixed martial arts for a time, before his boxing return a little over a year ago. While Ortega still plans to pursue MMA in addition to boxing, he is happy to be back between the ropes. "I had to do what I had to, but I did miss boxing and the competitive aspect," says Ortega, who is also a successful personal trainer. "It definitely feels right to be back."
Ortega's return was supposed to come against a former local amateur rival Velvet Malone (0-4), who had relocated from Sacramento to Las Vegas, Nevada some years ago, but fought out of the Capital City as amateur. Ortega had fought Malone as a teenager and his trainer today, Seifudeen Mateen, had trained Malone for a time. However, a training injury early fight week left promoter O.P.P Presents and their matchmaker Edward Rodriquez scrambling to find a willing replacement.
At the eleventh hour, in stepped better-than-his-record spoiler Cleven Ishe (3-8, 1 KO) of Long Beach, California. Considering Ishe, an orthodox fighter, could not be any more different than Malone, a southpaw, it is a change that could potentially ruffle Ortega's feathers. However, the young prospect sounds up to the challenge. "I feel like it worked out," explains Ortega, who scaled 156-pounds today. "I didn't think too much about it. I am prepared to fight. I am ready to fight, no matter who steps in front of me, I feel like I am going to dominate. It feels like everything is in line for me right now – my physical and my mental. It's just time to fight, whoever."
With Ishe signing on late Wednesday night, Ortega has had only a few moments to study his new opponent, but sees a fighter he can handle. "From what I have seen, I think he is perfect for me," analyzes Ortega. "He will box a little bit and he's awkward. He seems like a clumsy fighter almost, in my opinion. I feel like I will pick him apart and I will be a lot faster than he can handle. I also think my power is going to surprise him, so I am excited."
While no fighter would choose to have a late opponent switch, Ortega and his team seem even more up to fight Ishe, a fighter that has been in with some of the better known prospects in the sport. "Honestly, I am happy that we found Mike a guy that will test him," says Ortega's manager Mario Ortega Jr. "Ishe started off 3-0 and I know for a fact guys like Paul Mendez turned down fights with him then. Many of the undefeated guys that have beaten him did not look good doing it either, so this will show where Mike Ortega is at in the grand scheme of things."
The fact that prospects such as Christopher Pearson, Alfonso Blanco and Brandon Adams could not stop Ishe gives Ortega a goal to shoot for come fight night. "Most of these top guys couldn't actually finish him, so I take it as a challenge," says Ortega. "He's only been knocked out once, so he probably has a good chin. But I am excited to knock him out and show I am actually a step above these other prospects he has fought before."
Though a tougher opponent did not curb Ortega's excitement, the fact that he is fighting at home was going to be a thrill no matter who stood across the ring at the fighter with the moniker of Ortega Time. "To have my friends and family here, it makes this fight more exciting than any other, outside of my debut, which was at Raley Field and thus equally as exciting," says Ortega. "In addition to all that, I get to be relaxed at home right now instead of at a hotel room. It is just awesome and couldn't be any better for what is kind of like my comeback fight."
There are no guarantees in boxing, but Cleven Ishe could be the first step as Mike Ortega the boxer gets all his gears in motion and makes one real run at becoming the fighter he could have become all along. "Tonight's promoter, O.P.P Presents, plans to put on a fight every two months, and I am on board with that," says Ortega. "I'd like to fight every month.
The main problem in the past was not getting enough fights and staying active enough. To be honest, I don't enjoy all the training and I don't enjoy the weight cut. What I do enjoy is the fight, the adrenaline rush and the win. That's what I am in it for. I am not in it just to train and I don't want to be in the gym without a fight. I like to have fights and that's what I look forward to, that's what I work hard for and that's why I train. With that, if there's fights in line like everyone is promising, then I am in it 100 percent."
No better place to start than at home.
Tickets for tonight's event, headlined by the return of Sacramento's longtime light heavyweight contender Otis Griffin and promoted by O.P.P Presents, are available by calling 925-787-9586 or online at OPPBoxing.com.
Photo by Stephanie Trapp